I can't stress enough how important great biographies are and ones that represent the heros of our past and how they are great ways to share stories of men and women of character.  I am talking about American bio's in this post but several of you may live in other countries.  Find the heros of your past and write a list of those to get to read to your kids.
Some of my favorites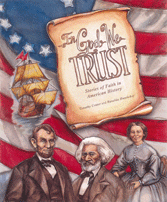 In God we Trust– Stories of Faith in American History
Genevieve Foster writes a book series "The World of"  There are many of these and they are all great.  Here is just one to give you a starting point, if you pull this one up on Amazon you will see many more.  We have read many of these!
The World of Columbus and Sons
We also love any of the books by Ingri and Edgar Parin D'Aulaire, here is an example of theirs.
Abraham Lincoln (Bicentennial Edition)
Join the newsletter
Sign up to get your free 2018 Calendar Set! They are decorated for the season and all have a family quote or verse at the bottom!